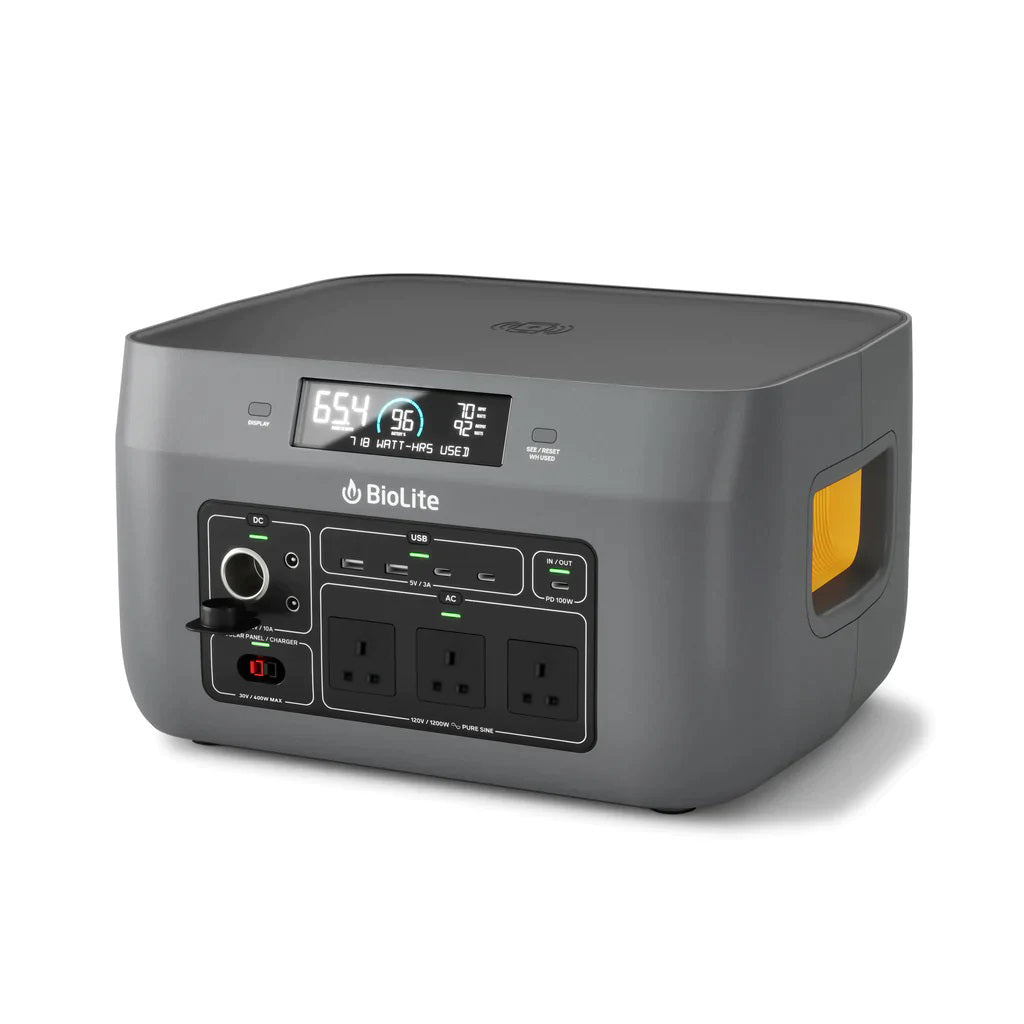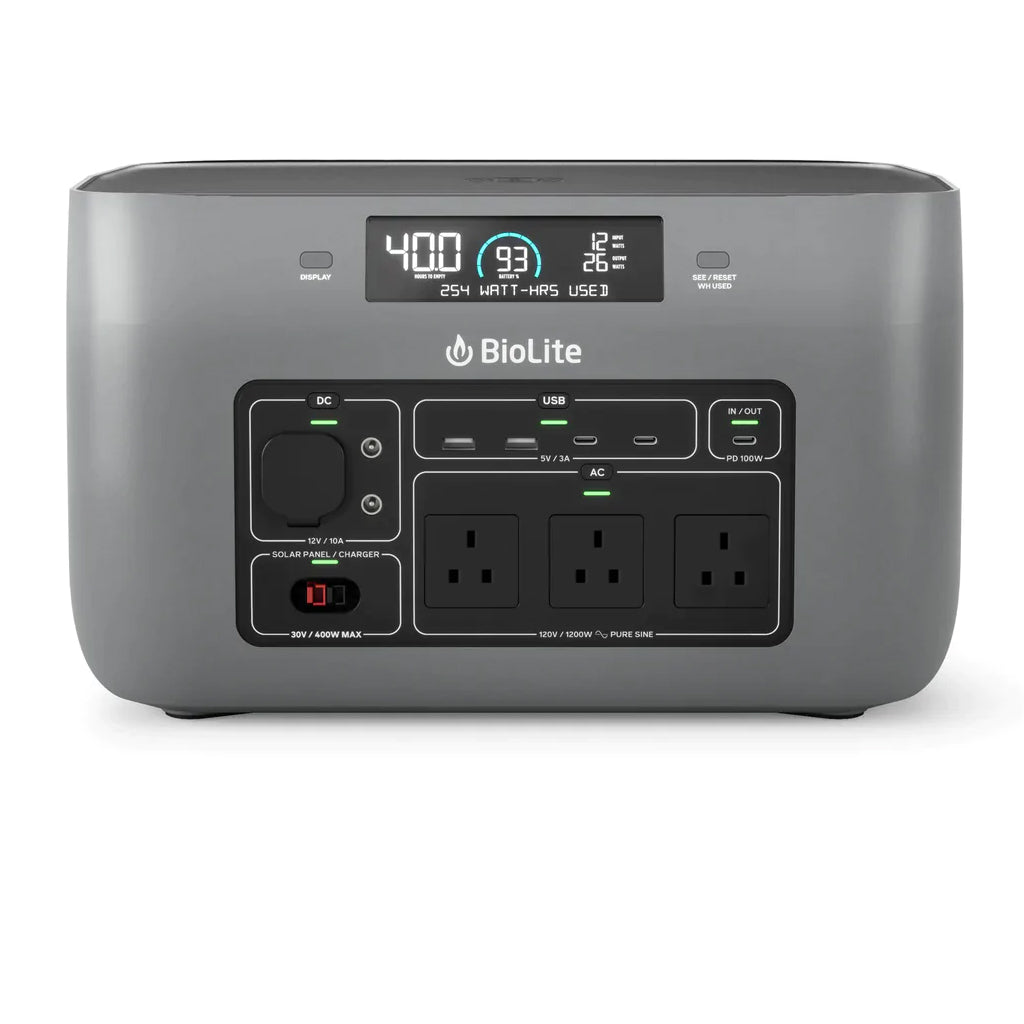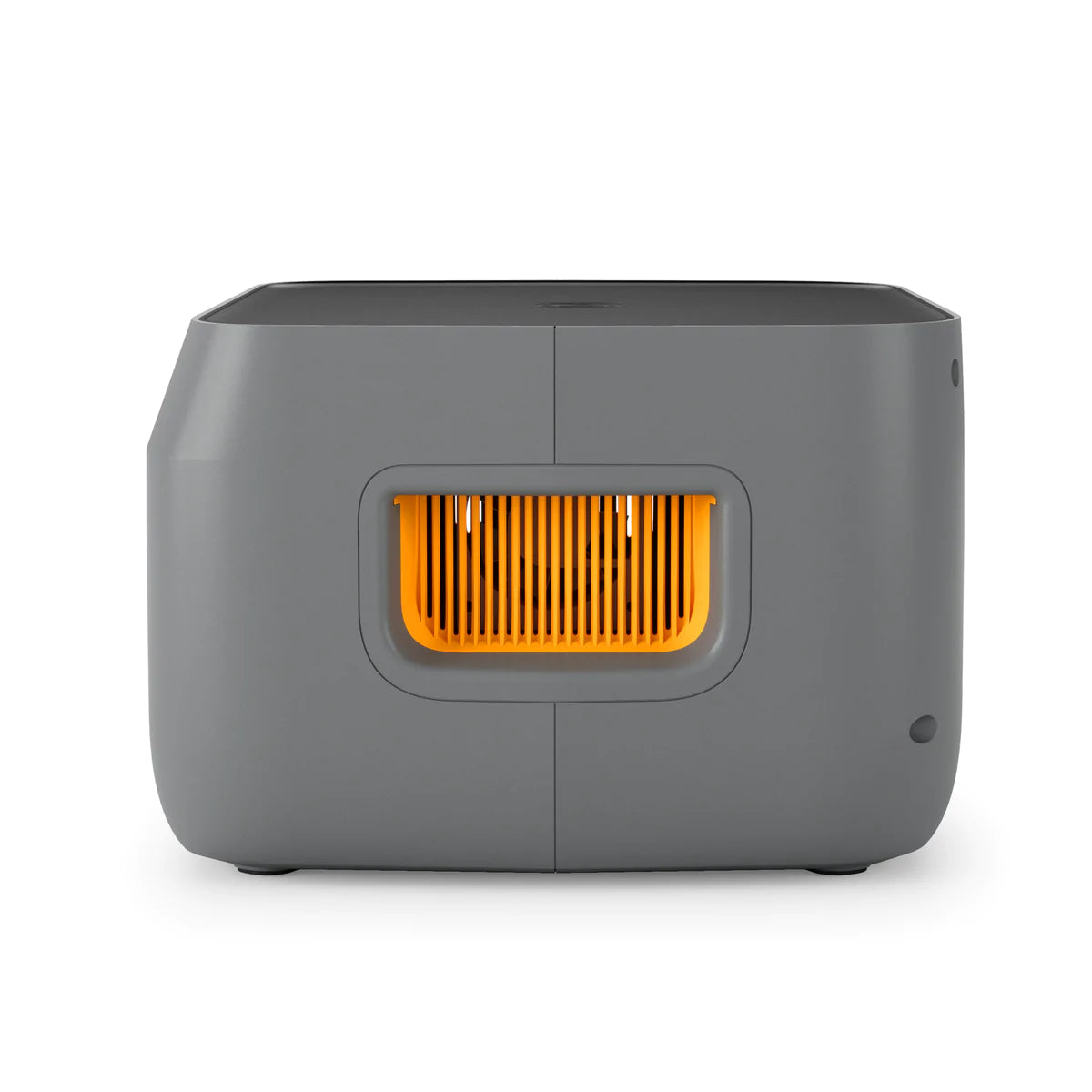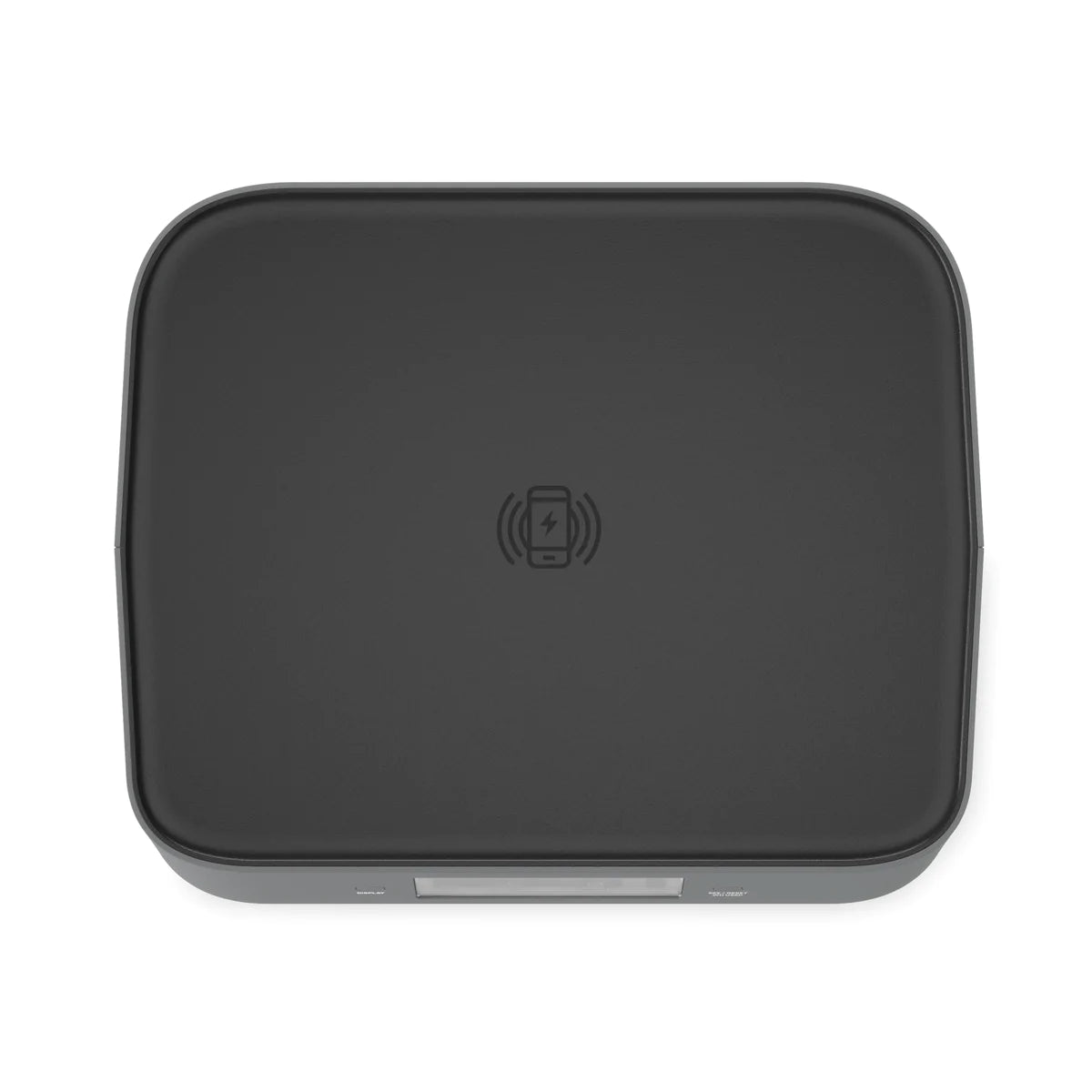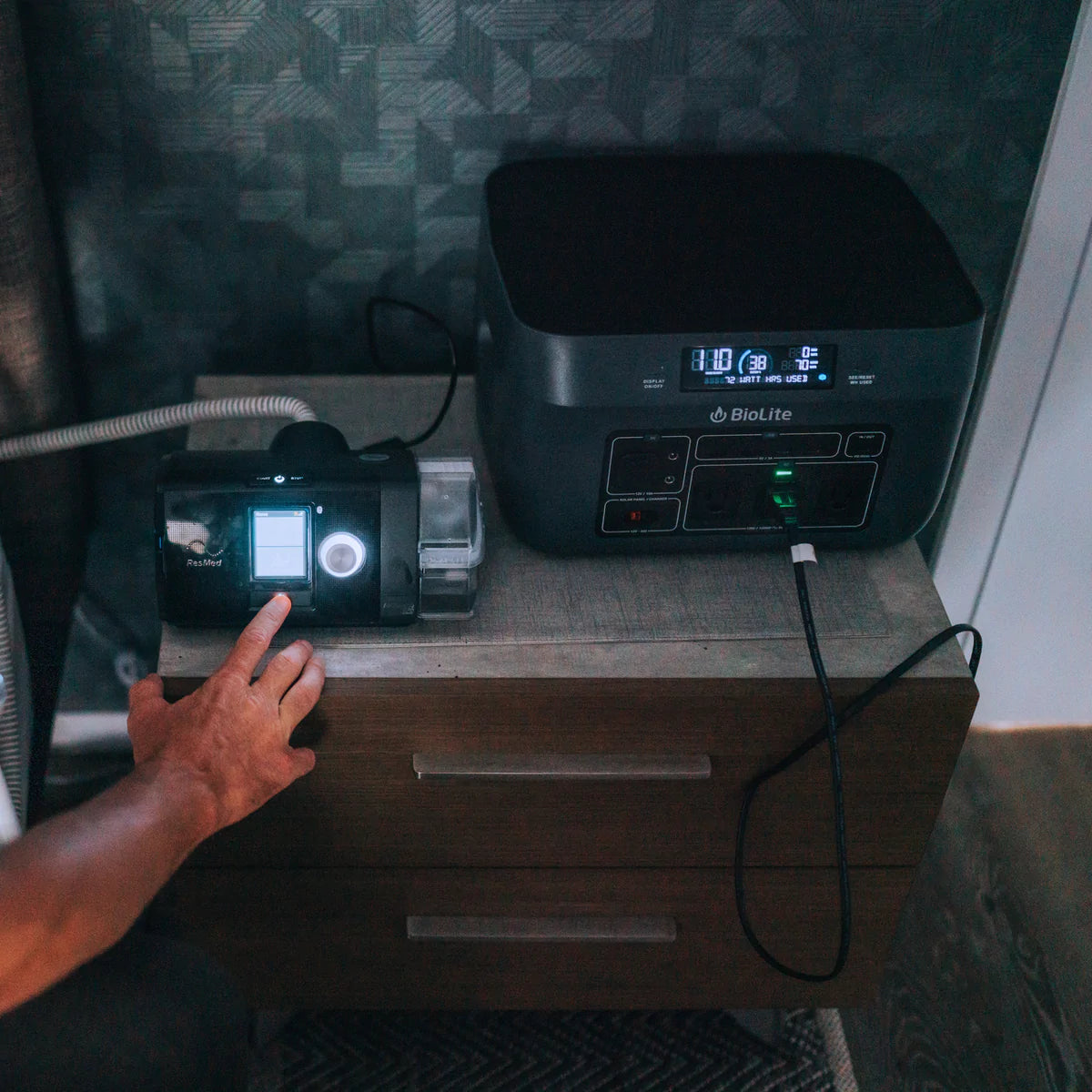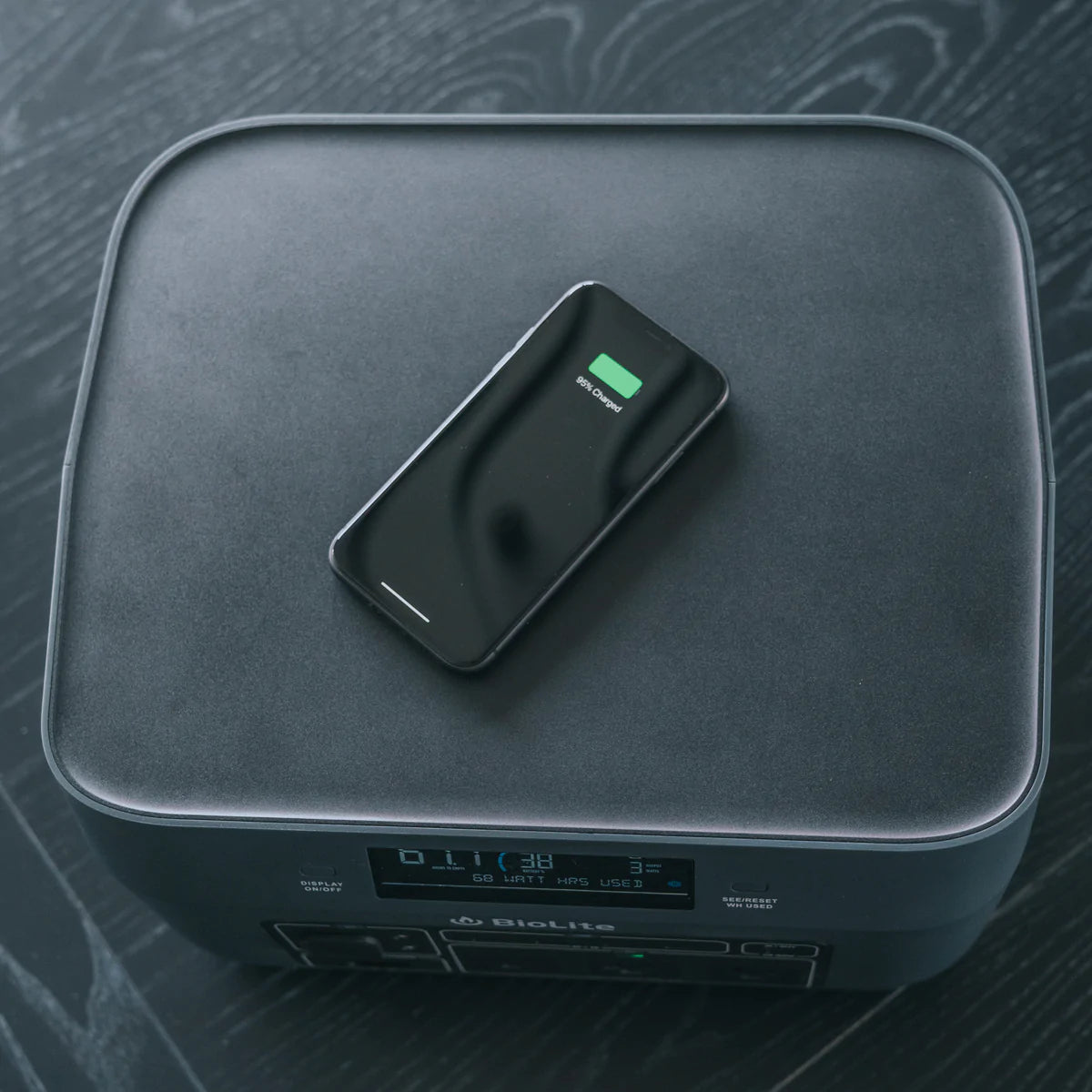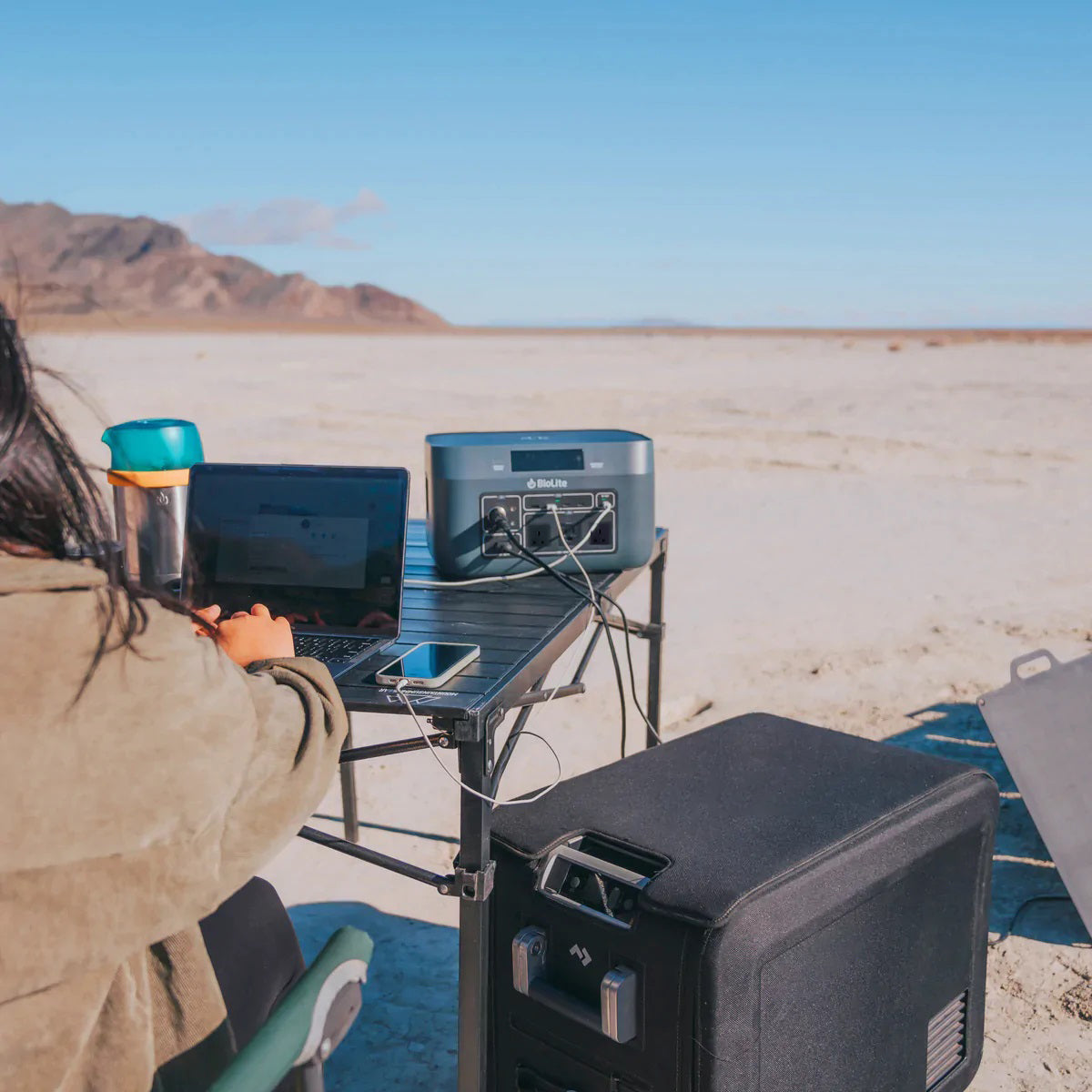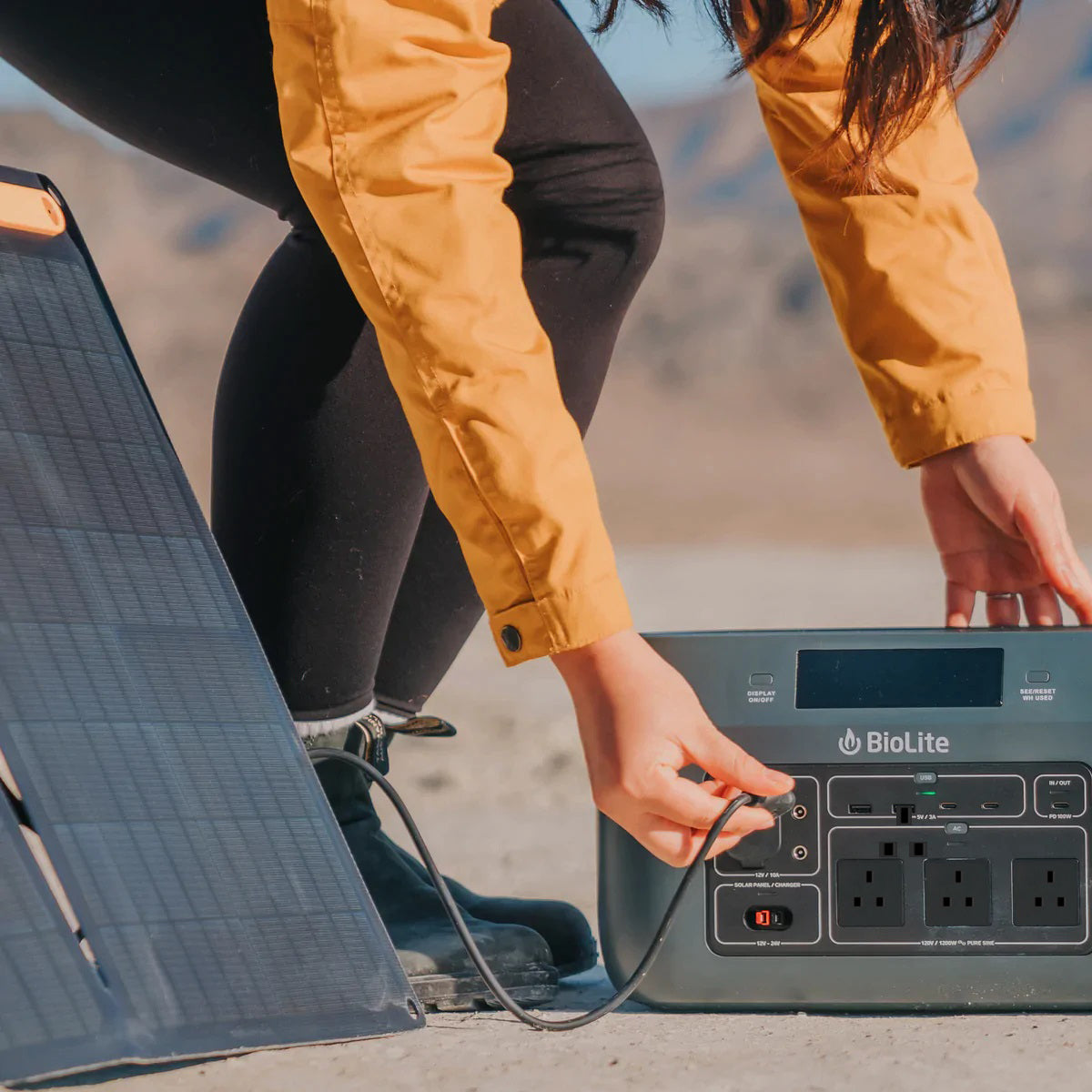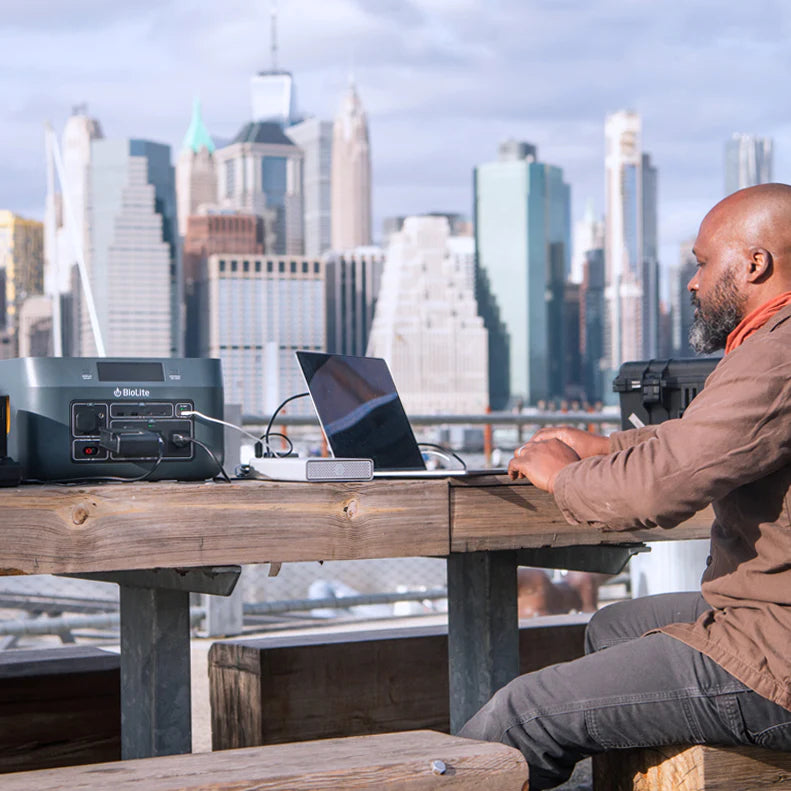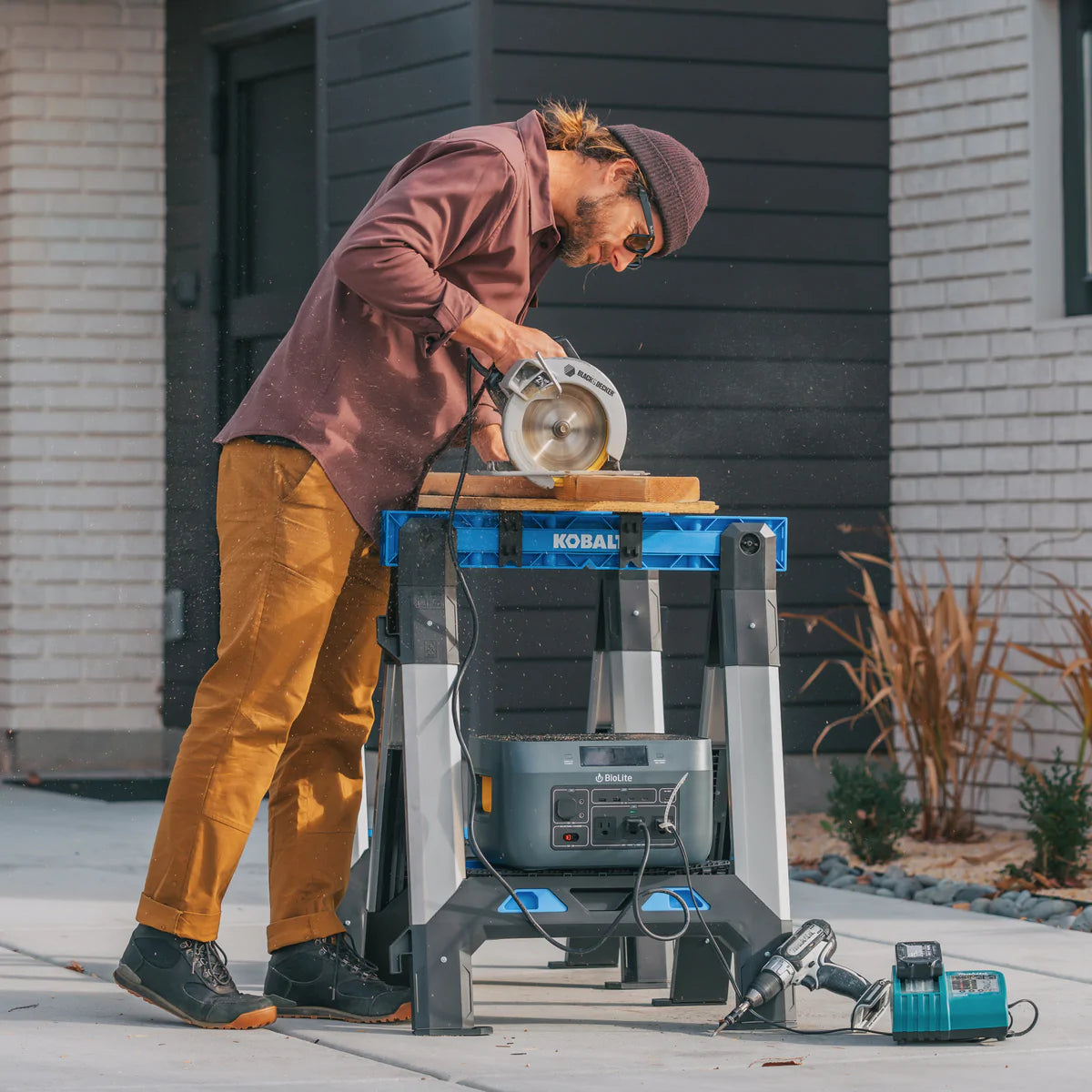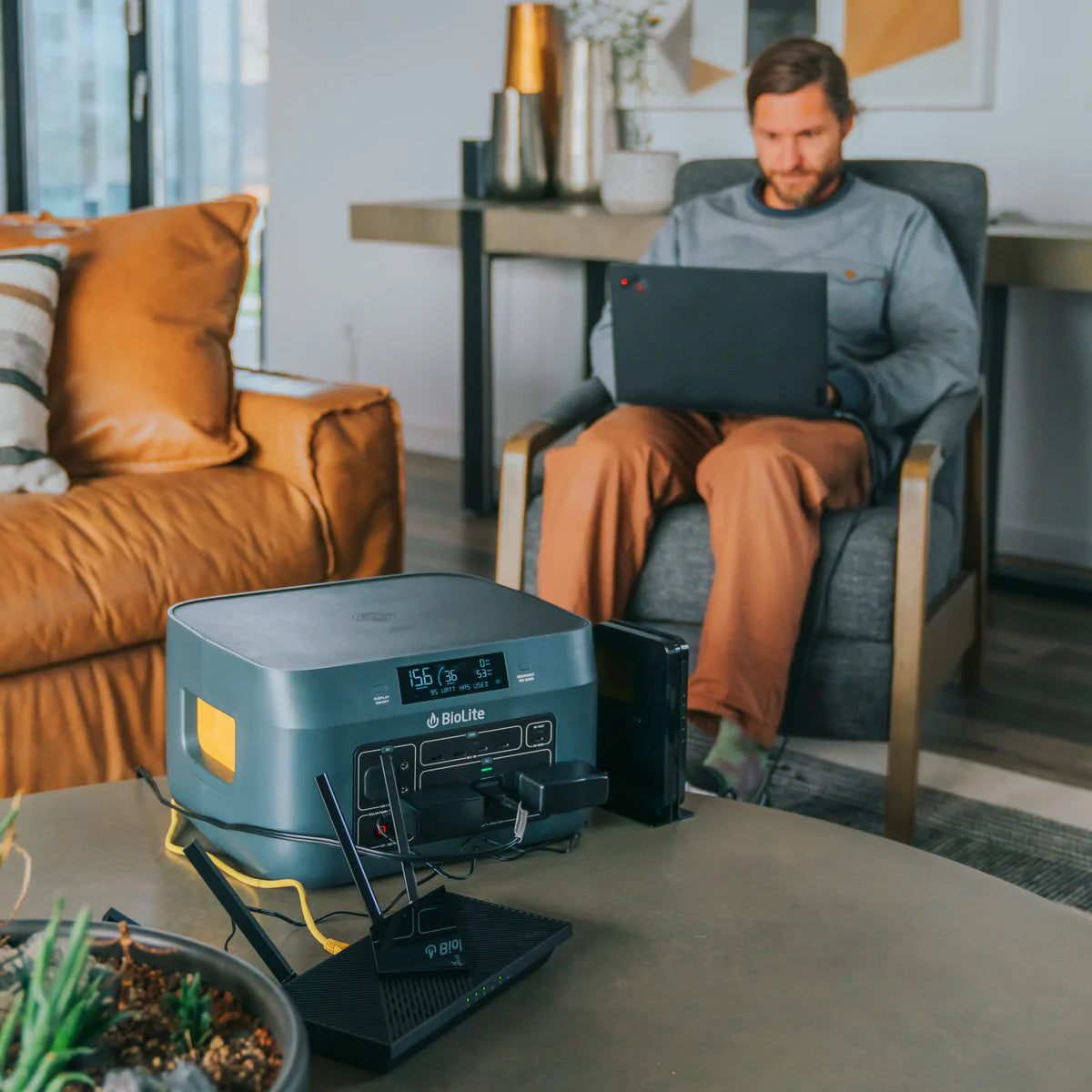 BioLite
BASECHARGE 1500
Access home-grade power in off-grid environments that can be recharged from the wall, car, or through solar. The Easy Read Smart LCD Dashboard provides real-time feedback on your system. The internal 12 Checkpoint Safety System constantly monitors the unit so you can share power to your network of devices with confidence. Power refrigerators, power tools, medical devices, laptops, and more with this quiet and fume-free solution.
1521 watt-hour, lithium-ion battery
Max output of 1200 W and 2400 W Surge
AC, DC, DC Barrel, USB-A, USB-C, USB-C PD
Wireless Charging-enabled top deck
Resettable Energy Odometer to monitor usage
Message Center provides real-time station status
Charge up from solar in as little as 4 hours.
Features
All Of The Essential Ports

(3) AC, 220-240V/1200W
(1) 12V Carport Output, 120W
(2) 12V DC Barrel Ports, 120W
(1) Wall/Solar Input (HPP), 400W
(1) USB-C PD, 100W
(2) USB-A, 5V/3.0A
(2) USB-C, 5V/3.0A
Wireless Charging
Cut the cord completely and charge up with the 10W wireless charging top deck.
Easy-Read Smart Dashboard With Message Center
Always know how much power you're using, and the time you have left. The message center displays performance updates in plain English, so you'll rarely have to reach for an instruction manual.
Resettable Energy Odometer
Monitor your power and know exactly how much power you've used. Perfect for planning your energy needs for future trips and unexpected outages.
Handles For Easy Portability
Doubling as ventilation, the handles make BaseCharge easy to pack, transport and store.
Tech Specs
BATTERY
1521 Wh (21.6V, 70.4 Ah). Li-Ion (NMC).
INPUTS
Wall/Solar Input (HPP) 400W (12-30V DC, 20A max)
USB-C PD 100W
AC OUTPUTS
(3) 110V: 1200W
2,400W Surge
WIRELESS OUTPUT
10W wireless charger
WARRANTY
2 Years
DC OUTPUTS
12V Carport Ouptut: 120 W

(2) 12V DC Barrel Ports: 120W, 5.5 mm OD / 2.1 mm ID
USB OUTPUTS
USB-A: 5V/3.0A

(2) USB-C: 5 V/3.0 A

(1) USB-C PD: 5V, 9V, 12V, 15 V 20 V /5 A (100 W)
CHARGE TIME TO 80%
Included AC Adapter: 13.5 hours
AC Adapter + USB-C PD: 8 hours
Peak Input, 4 Daisy-Chained SolarPanel 100s: 4 hours
CYCLE CAPACITY
>80% capacity after 500 full charge cycles
SHELF LIFE
Recharge every 6 months to prolong life. 36 month storage capability.
DIMNENSIONS
14.4 x 12.2 x 8.2 in
367 x 310 x 209 mm
WEIGHT
26.5 lbs
12.1 kg
IN THE BOX
BaseCharge 1500
120W AC Adapter
Instruction Manual
What It Powers
CAMPING/OVERLANDING
SMARTPHONES
117 Charges

BLENDER
164 Smoothies

ELECTRIC COOLER
37 Hours
HOME BACKUP

REFRIGERATOR
20 Hours
MICROWAVE
62 Minutes

CPAP MACHINE
31 Hours
MOBILE OFFICE

LAPTOP
22 Charges

DSLR CAMERA
82 Charges

QUADCOPTER DRONE
20 Charges
PROFESSIONAL/DIY
CORDED DRILL
57 Minutes

CIRCULAR SAW
51 Minutes
FAQs
How do you recharge BaseCharge power stations?
BaseCharge can be recharged via the HPP input through the included AC charging adapter, solar (sold separately), DC Carport adapter (sold separately), or through the USB-C PD input/output port.
How long does it take to recharge the BaseCharge?
From The Wall:5 hrs
From Wall + USB-C PD:8 hrs
From Solar: 4 hrs (4X SolarPanels 100 in ideal conditions)
What can the BaseCharge model power?
BaseCharge 1500 has a 1521 Wh internal battery with the ability to provide up to 1200W of continuous power with 2400W Surge protection.
How many devices can BaseCharge charge at once?
Your BaseCharge can power multiple devices at once so long as the total power required stays within the limit of your unit's max output wattage. For BaseCharge 600 this is 600 watts, for BaseCharge 1500 this is 1500 watts. Refer to your BaseCharge's smart dashboard for real-time feedback on how long you can run or recharge your multiple devices until BaseCharge is empty.

Note: for wireless charging, BaseCharge can only recharge a single device at a time on the wireless deck.
Can you explain BioLite's 12 Checkpoint Safety System?
BioLite's internal custom circuitry and firmware are constantly monitoring your system so you can share power to devices safely and reliably. This includes core checks like over and under voltage limits, charge current limit, short circuit protection, high and low-temperature limits, discharge current limit, inverter temperature limit, and more. In the event your unit experiences an error, the checkpoint system will send notifications to the message center on your dashboard and may cut off power to the port facings, protecting both BaseCharge and your external devices.
What does an AC Inverter do? Why is that important?
AC inverters (included in all BioLite BaseCharge Power Stations) convert direct current (DC) power into alternating current (AC), the kind of power that comes out of a typical wall outlet you'll find at home. Many everyday appliances and devices are designed to run on AC, making an AC inverter a valuable feature in being able to power a wide variety of items to keep your life running.
How does the Energy Odometer work?
The Energy Odometer works much like a pedometer or your watch or odometer in your car, but instead of tracking steps or mileage, it is tracking total watt-hours used so you can better understand your off-grid energy consumption habits. The odometer is resettable, enabling you to choose if you'd like to track usage over a specific period of time, activity, or device charge.
Is the BaseCharge waterproof?
No, BaseCharge is not waterproof and should not be used in rainy conditions. Bring under shelter or use indoors.
What temperature is best to store my BaseCharge?
The BaseCharge operates best in temperatures between 30F - 100F
Can I use my BaseCharge in freezing temperatures?
As with all batteries, BaseCharge will have reduced capacity when operating in sub-freezing temperatures. To maintain performance as best as possible, keep your unit insulated when using it in cold, outdoor operations.
What is the maximum amount of panels that I can connect to the BaseCharge?
BaseCharge 1500 can receive up to [4] BioLite SolarPanel 100s for a maximum input of 400 watts. BaseCharge 600 can receive [1] BioLite Solar Panel 100, or a maximum input of 120 watts from other 12V solar panels.
Can I take my BaseCharge on a plane?
No, you cannot take BaseCharge 600 or 1500 on a plane. Both BaseCharge models exceed FAA's regulated limit of 100 Watt Hours for lithium-ion batteries. BaseCharge - as with all high-capacity power stations - must be transported through ground transportation.
How do I know if my device will work with the BaseCharge?
Refer to your device's power specifications. This includes looking at the plug type required to run or recharge your device (12V car port, barrel port, USB-A, USB-C, AC) as well as the continuous power requirements or rechargeable battery capacity of your device. For rechargeable devices, a good reference is if your device's battery is smaller than that of BaseCharge, it will likely be compatible. For continuous power devices, BaseCharge 600 can provide up to 600W of real-time output with a 1000W Surge while BaseCharge 1500 can provide 1200W of real-time output with a 2400W surge. For wireless recharging, BaseCharge's deck is compatible with devices that have built-in compatibility for wireless recharging, most notably smartphones, tablets, and some laptop models.